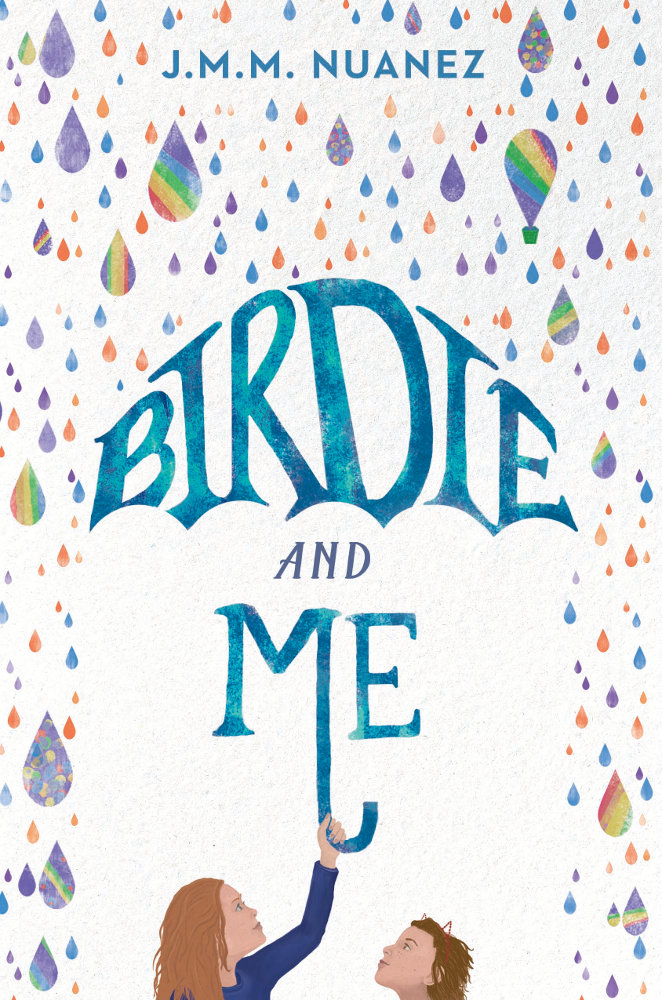 BIRDIE AND ME
Penguin Random House
February 18, 2020
A story about a girl named Jack and her gender non-conforming brother, Birdie, searching for a place to call home.
After Mama dies, Jack and Birdie's two uncles each try to provide them a home—first sweet Uncle Carl, then gruff Uncle Patrick. The results are funny, tender, tragic, and somehow . . . spectacular.
With voices and characters that soar off the page, J. M. M. Nuanez's stunning debut novel depicts an unlikely family caught in a situation none of them would have chosen, and the beautiful ways in which they finally come to understand one another.
Cover art and design by Jessica Jenkins
Praise for BIRDIE AND ME
★ "This singular story of a grieving and unconventional family belongs alongside Holly Goldberg Sloan's Counting by 7s, Cindy Baldwin's Where the Watermelons Grow, and Ali Benjamin's The Thing about Jellyfish. Highly recommended."
STARRED REVIEW by
School Library Journal
★ "This strong, emotional, and engaging read is a must-have for any library. The issues are dealt with realistically and challenge the reader to examine their personal feelings, the various modes for dealing with grief, gender fluidity, and how to appropriately support students in their search for who they truly are. A great coming-of-age story."
STARRED REVIEW by
School Library Connection
"Nuanez's debut tells an endearing story of family in the wake of tragedy, anchored by the wonderfully loving and supportive relationship between Jack and Birdie. . . . [T]he prose flows seamlessly and the dialogue feels undeniably real."
Booklist
"Sure-handed storytelling . . . [A] strong middle grade debut."
Publishers Weekly
"A beautiful, sensitive story about a sister and brother finding their way through tragedy and grief. Readers will love this eminently satisfying tale; its courageous characters will stay with them long after they turn the last page."
Patricia Reilly Giff, Newbery Honor author of
Lily's Crossing and Pictures of Hollis Woods
"There is so much tenderness in Jack and Birdie's story that you will feel like a better person for having read it. Here is a book you will want to hug before you put it down. You will want to share it with all your friends. You will especially want to give it to anyone who has ever felt like an island. Then you will open the cover and read it again. I promise."
Kathi Appelt, Newbery Honor winner and National Book Award Finalist
"Nuanez's outstanding debut shines with exceptionally well-drawn characters, all hobbled by one unspeakable loss, and all taking seemingly disparate measures to mend their tattered hearts. BIRDIE AND ME is an absorbing, hope-giving story about family love and acceptance."
Leslie Connor, author of National Book Award Finalist,
The Truth as Told by Mason Buttle
"Both hopeful and heartbreaking, Birdie and Me is a tender story about grief, identity, and the beauty and comfort that comes from letting yourself love and be loved. A luminous debut."
Ashley Herring Blake, author of the Stonewall Honor book,
Ivy Aberdeen's Letter to the World
"CJ and I loved Birdie and Me, a heartbreakingly moving story about family, change, creativity, and home. Nuanez captures the tender and tragic aspects of love and loss, grief and growth. It is a much needed and beautifully written story that brings to life a flawed family courageously and carefully navigating loss, learning how to celebrate one another in all their differences. We can't wait to share it as far and widely as possible."
Lori Duron, author of
Raising My Rainbow: Adventures in Raising a Fabulous, Gender Creative Son
"Brimming with heart, humor, and hope, Birdie and Me is a touching exploration of grief, mental illness, and the many beautiful definitions of family."
Greg Howard, author of
The Whispers
"Rarely has a sister-brother relationship been portrayed with such tenderness as in Birdie and Me. In her heart-opening debut novel, Nuanez shows how, in the midst of loss and grief, young people can find love and hope and a deep sense of family in the most unexpected ways."
Ruth Behar, Pura Belpré Award-winning author of
Lucky Broken Girl